We finally have their decision: they've chosen a Nine Elms Bridge location! It's been a decade in the […]
Wandsworth Council is putting on a series of Public Exhibitions to breathe new life into The Nine Elms Cycle Bridge which many had thought to be dead in the water after failing to gain any support from The Mayor of London and following Westminster City Council's stinging examination of the proposition.
Westminster City Council Scutiny Committee is examining the Nine Elms Bridge. It's the first meeting of Westminster's Public Inquiry into the Proposed Nine Elms Bridge at Westminster City Hall and will help to set the agenda for the way it unfolds.
Latest: Nine Elms Cycle Bridge articles on 5Fields.org
—
Wandsworth Council have announced a public showcase of initial design concepts for their cycle bridge proposal which could obliterate Pimlico's last bit of green, open space by the River.
The competition to design a suitable crossing to connect Nine Elms more directly with the North side of the Thames has apparently caught the interest of up to 80 international design teams who will be displaying their ideas at this brief exhibition next week. Pimlico residents are invited to have a look and make up their own minds about the possibilities.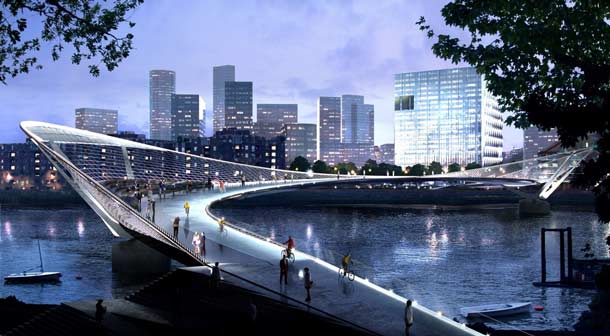 The designs will be anonymous to keep the focus of attention on the concepts and will be published can be seen on the Gallery page of the NEP Bridge Competition website. The exhibition is being billed as an opportunity for people from across London to have their say, though they haven't yet given details of how that might actually happen. Until there is a feedback system, please tell us what you think and we will compile all your comments, anonymously, for their attention – use the Contact Page or the comments section at the bottom of this page.
Following this exhibition, a jury panel will reduce the proposals down to a shortlist of up to four teams to go through to the next stage. The jury panel members include Wandsworth Council leader Ravi Govindia, architect Graham Stirk, engineer Henry Bardsley, CABE chair Pam Alexander and Lambeth Council's Joanne Simpson.
Wandsworth have privately invited a couple of Pimlico residents to join the Residents' Review Panel which can pass comments to the jury. We can't find any public representation for Pimlico or Westminster.
Westminster Boating Base,136 Grosvenor Road, London SW1V 3JY (view map)
Monday 23rd February: 11am – 7pm and Tuesday 24th February: 9am – 7pm
Pimlico residents are invited to view the initial design concepts for the Pimlico to Nine Elms bridge across the Thames, Feb 23-24 at Westminster Boating Base,136 Grosvenor Road SW1V 3JY