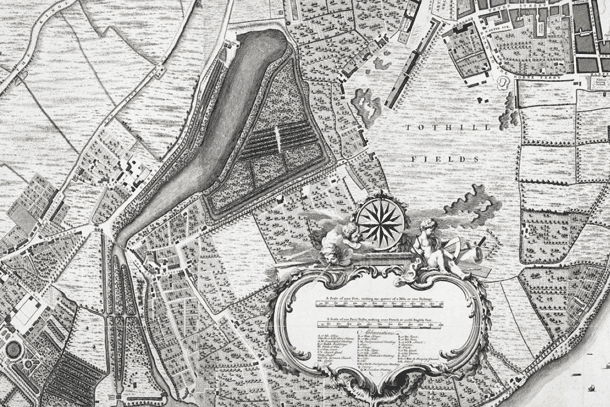 Ever since Lord Grosvenor did the deal with Thomas Cubitt in 1825, Pimlico has tended to be more about aspiration than inspiration. One struggles to find extraordinary points of interest to boast about. We have no Grand Houses, Victorian serial killers, ancient monuments or tourist attractions to offer you. There are no white-cubed art galleries, hipster hangouts, designer boutiques or billionaire ghettos.
We do currently have the best place to live in this town and we all very much hope that nobody else discovers that fact, at least for the present. Since you've already found your way here, we've made a map of interesting particulars.
There's not much on it, obviously.
Pimlico, London SW1V

View a larger version of Pimlico Passport on Google Maps.
Needless to say, I will be adding more Pimlico points of interest, including some historical context and more about Warwick Square garden, as I find out more about what lies behind the gleaming, white stucco.
If you can suggest things that should be on this map, I should very much welcome them. Use the comment form below or find me on my blog: Ken Sparkes at SPRKS.com
—
Pimlicology – Highlights from the Map:
Jenny's Whim was a wooden bridge which spanned the Grosvenor canal at what is now Ebury Bridge and gave onto Willow Walk which crossed the marshland of Pimlico. A tavern and pleasure gardens of the same name stood here, offering tea, ale, amusing deceptions, devices triggered by hidden springs, and floating mermaids; the price of a pot of ale included entrance to Perrot's Inimitable Grotto while a decanter of Dorchester ale and a turn of duck-hunting cost 6d. Though Willow Walk was home to highwaymen and footpads, Jenny's Whim became one of London's most popular entertainment spots, even at night when it was a favoured destination for young couples. It was followed by The Monster tavern nearby which was also the starting point for horse-drawn omnibuses. It was destroyed by bombs on 17 April, 1941, during The Blitz.
John Johnson houses (Thomas Parade) on Grosvenor Road. The lease for much of the land around Pimlico was bought in 1817 by John Johnson, a stone merchant, who intended to develop the area. He was unsuccessful however, due to continued obstruction from the market gardeners who refused to be ousted. By 1825, a frustrated Johnson sold the remainder of the lease to Thomas Cubitt. These houses by the Thames are the only John Johnson houses remaining.
The Pimlico Mystery or the Pimlico Poisoning Mystery is the name given to the circumstances surrounding the 1886 death of Thomas Bartlett, probably at the hands of his wife, Adelaide Blanche Bartlett, at Claverton Street, Pimlico. A fatal quantity of chloroform was found in Mr Bartlett's stomach, despite having not caused any damage to his throat or windpipe, and no evidence of how it got there. Adelaide asked Reverend George Dyson, her 'spiritual counselor', to buy large quanities of chloroform from several local chemists in the weeks before the incident. She was tried for murder and was acquitted, partly because the prosecution could not prove how Mrs Bartlett could have committed the crime.
Dolphin Square played a bit part in the John Profumo scandal that damaged the Conservative government in 1963. Christine Keeler and Mandy Rice-Davies, the young women at the heart of the scandal were sub-tenants in the Square, but no one seems to remember which flats they occupied; some say Keeler lived in 501 or 601 Duncan house (West side), home of the DSTA chairman, who is delighted with the idea, and wishes the walls could speak. (source: Dolphin Times PDF).
33 Warwick Square. Considered to be London's first true studio house combining a studio, gallery and residence; the architect was George Morgan. Commissioned in 1859 by Scottish society portraitist James Rannie Swinton to impress his rich clients, it includes a grand staircase with domed ceiling, ballroom and a huge conservatory, which still has its original glass roof. The dancer Isadora Duncan used one room as a studio. More recently, it housed the Grosvenor School of Modern Art, founded by artists Claude Flight, Iain MacNab, Cyril Edward Power and Sybil Andrews in 1925. More recently, barrister and author Milton Grundy set up the Warwick Arts Trust to help young artists, and his own collection.
Wilfrid Brambell (1912-1985), actor, lived at 22 Moreton Place. He lived here in the basement flat from the early 1960's until his death in 1985. He is most famous for playing old man Steptoe in classic television sitcom Steptoe and Son. He worked with The Beatles in their film A Hard Day's Night, playing Paul McCartney's fictional grandfather. In 1966 he played Ebenezer Scrooge in a musical version of A Christmas Carol.
Westminster Boating Base,136 Grosvenor Road, is a charitable trust which teaches water sports to both adults and children. It was here that Angelina Jolie learned to canoe for her role as Lara Croft in the film Tomb Raider.
—
More Maps:
Every bomb dropped over London during the nine months of The Blitz, 7 Oct 1940 to 6 June 1941, is mapped at BombSight.org so that you can see what landed on Pimlico. Zooming out is scary! The Monster pub mentioned above was destroyed on one night in April 1941 by two parachute mines along with the whole of Sutherland Terrace which was 'razed to the ground'. Sutherland Terrace no longer exists but it used to join Sutherland Street with Cumberland Street, parallel to Warwick Way. You can read an account of the incident on The West End at War: Sutherland Terrace, Pimlico which includes some sobering photos. 148 people were killed that night in Pimlico and 564 injured. Pimlico was heavily bombed during the Blitz and many buildings were destroyed; some of the white-stuccoed Victorian townhouses you see today are actually post-war replacements.
Greenwood's Map of London 1827 shows Pimlico shortly before it was developed by The Grosvenor Estate. Willow Walk is now Warwick Way (the markings are willow trees), New Square is Eccleston Square, the Garden on Belgrave Street will soon become Warwick Square and the Common Sewer is the river Tyburn which flows under Tachbrook Street.
Pimlico Walks With Maps: Ken Titmuss has started a Pimlico walk using old maps to help find lost London. The walks happen every few weeks and last about 2 hours. Fascinating stuff! You can also find him here on Twitter.
We're tracking the Cycle Superhighway CS5 routes which are going ahead in 2015 without an actual plan for the Pimlico section.
—
More old maps and historic photos of Pimlico can be found on Paul Pimlico's Pinterest page.
—
Words & photos: © Ken Sparkes. All Rights Reserved.