The Clarendon is now a fancy hotel and restaurant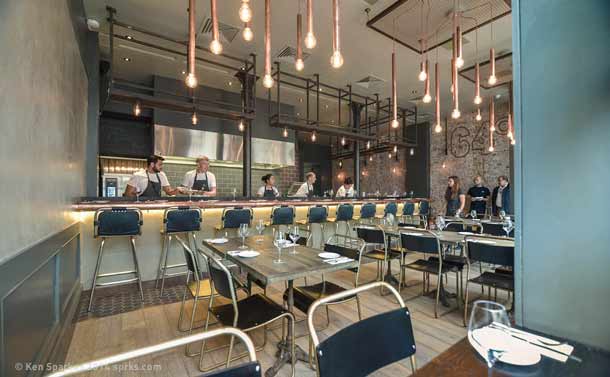 The team behind the trendy 64 Degrees restaurants and Artist Residence Hotels in Brighton and Penzance have brought their quirky formula to Pimlico with a total rehabilitation of what was The Clarendon on Cambridge Street. Hoteliers Justin Salisbury and Charlotte Newey were looking to open a London branch in the East End but saw the Cambridge Street site and, as they calculated the viability of a Pimlico location, saw that the geography, transport links and demographics made a lot of sense. It doesn't hurt that there's nowhere quite like it in the area.
Charlotte took me for a quick tour of the building and explained the whys and wherefores:
"The place was a real wreck but the building itself is lovely so we've tried to keep as many of the original features as possible. Then we set about making it into a bright, liveable building with a mix of historic, mid-century and contemporary style. We've tried to keep our neighbouring residents in the loop and to come see what we were doing here. They didn't want another noisy beer garden next to them and our plans to turn the outside space into a kitchen and herb garden seem to have gone down okay."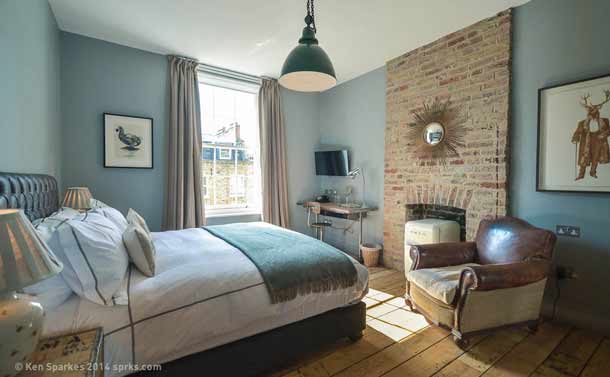 The idea is to provide a friendly, useful place for hotel guests, visitors and locals alike, from substantial breakfasts to evening drinks, coffee chats to business meetups.
"We wanted to offer a variety of spaces so that customers could choose the most appropriate environment. The main 64 Degrees restaurant takes up most of the ground floor and has a mix of tables, kitchen bar seating, and a some cubicles. The basement is more relaxed: a bar for the evenings, a comfy café for the daytime and a private dining area which can double as a meeting room or even a temporary workspace."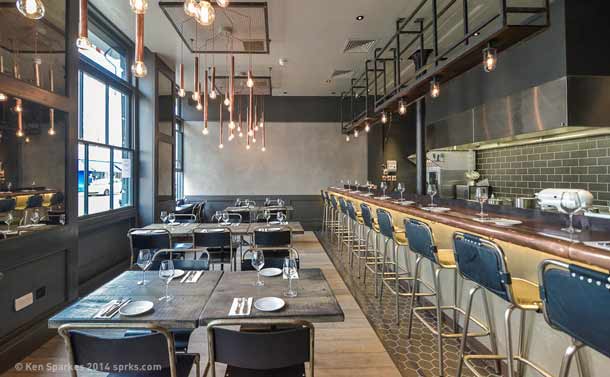 The hotel is partnered by hotshot restaurateur Michael Bremner's 64 Degrees eatery who explained:
"I've tried to take what's been learned from the Brighton and Penzance restaurants and bring the best of it to Pimlico. The kitchen concentrates on doing a few things very well. We're very choosy about our ingredients; they're mostly seasonal and local if possible. You can sit at the long kitchen bar and see exactly what ingredients we're using and what the cooks are doing with them – I'm really looking forward to welcoming Pimlico to our tables."
The hotel bit has already opened, 64 Degrees has had a soft launch and the basement areas are due to be finished next Friday 19th Sept. I'll be checking it out for a possible WSP website meetup next month and reporting back – subscribe to Warwick Square News to get updated via email. Any of you want to review it? Write to us.
Artist Residence Hotel: website • 64 Degrees restaurant: website • The Guardian: 64 Degrees Brighton restaurant review • Artist Residence on Instagram • Address: 54 Cambridge Street, Pimlico, London SW1V 4QQ • Find it on GoogleMaps
—
Pimlico attains urban Nirvana with arrival of Waitrose supermarket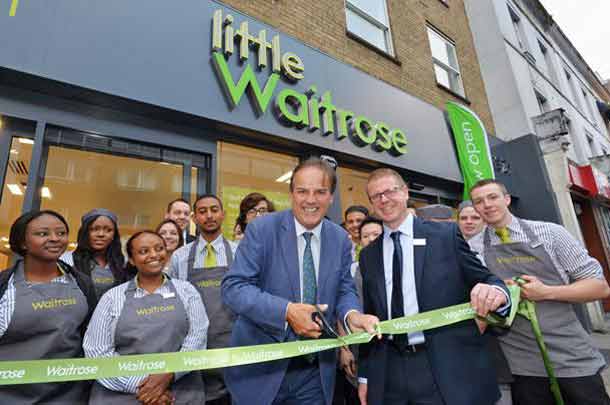 Everybody was fed up with traipsing to King's Road for their Duchy Originals and Heston Blumenthal products, so now we've got our very own Waitrose. It's a little one, but at least we've got an alternative when the Sainsbury's queues are swollen. Excerpts from the Waitrose press release:
A new little Waitrose officially opened in Pimlico by Mark Field MP. Mr Field said: "When a Waitrose opens up it is a clear sign that a local shopping parade has arrived! The mix of shops along Warwick Way, Wilton Road and Tachbrook market will only be enhanced by a new Waitrose, and as a local resident myself, I look forward to shopping there."

Waitrose has also confirmed that the first local causes to benefit from its Community Matters 'green token' scheme will be the Abbey Centre, the Cardinal Hume Centre and the Westminster Boating Base. At the end of the month £500 will be divided between the three charities according to the number of tokens received from customers. Shoppers can nominate different charities each month, resulting in a total of £6,000 donated each year.
I've taken a whizz around the mini-supermarket on your behalf. It's strong on ready-meals, light on fresh foods. Both Duchy and Heston are thin on the ground but I am gratified that it offers Waitrose fresh(ish) green pesto with basil, so that's one less headache for me. If you find any outstanding products next time you visit it, please feel free to highlight them in the comments below.
Address: 19-21 Warwick Way, Pimlico, London SW1V 1QT • Find it on GoogleMaps
—
WSP website meet-up
We're going to organise a WSP website meetup for either October or November soon, possibly at the new Artist Residence / 64 Degrees (see above). Please let us know if you'd like to come along and roughly which dates would least clash with half-terms, trout-shooting season and all that. Also, weekdays, weekends, or after work?
So, the website meeting has been, ahem, postponed until an undefined future date. Get in touch to register your interest! Use the comments below or the Contact page.
Meantime, there is a plan afoot to launch a pan-Pimlico online network for residents, FREDA and local business. Meetup on Monday 18th May 2015, 11:00am at 64 Degrees/Artist Residence, downstairs lounge, 52 Cambridge St, SW1V 4QQ (map). You're invited!
—