CS5 Cycle Superhighway Consultation Results: Pimlico link undecided (10th Nov 2014)
The section of CS5 Cycle route between Pimlico and Belgravia is being developed in partnership with Westminster City Council…  This includes the possibility of splitting the route between Route 1 and Vauxhall Bridge Road.

…Westminster City Council considers that having a two-way cycle route along Belgrave Road, Eccleston Bridge, Eccleston Street and Belgrave Place (Route 1) is probably not viable, as it is likely to require the narrowing of the footways and loss of some well-used residents' parking. Further discussions are therefore needed on a suitable alternative, which might include splitting the route between Route 1 and Vauxhall Bridge Road.
See the results of the CS5 Pimlico consultation (PDF) including selected comments from those who submitted. Possible VBR / Belgrave Rd option mentioned at the bottom. Feb 2015: The Pimlico routes are still undecided but work has begun. See more details on the CS5 works and road closures. Revised proposals for CS5 between Vauxhall and Oval.
28th July: A New Initiative for CS5 cycle lanes through Pimlico
After the mistimed CS5 consultation in Pimlico, cyclists and local residents may have a new option to consider. A recent Westminster City Council meeting at City Hall with WCC and TfL saw a FREDA initiative to combine the Northbound Belgrave Road leg of the existing proposals with a Southbound lane on Vauxhall Bridge Road (VBR) to provide a more direct route between Belgravia and Vauxhall Bridge without disrupting residential parts of Pimlico.
As you may have surmised, Option 1 for two-way cycle lanes on Drummond Gate and Belgrave Rd was a non-starter, apparently included for the sake of completeness. Or possibly for the same reason that restaurant menus include some very expensive dishes to make the others appear better value. Options 2 and 3 both included unpalatable and not very cycle-friendly portions because of the existing road layout. You can see the very sketchy plans on the recently launched TfL Pimlico-Belgravia consultation. Details were presented of a plan to remove left turns from Drummond Gate onto VBR which currently has low usage, and VBR onto Millbank which would be rerouted. These two banned left-turns would greatly enhance pedestrian and traffic flows at little cost to motorists or local residents. However, all three CS5 Pimlico proposed options would use Belgrave Road, and would attempt to add two-way cycle lanes to Lupus St and Drummond Gate.



Click on the thumbnails above to view the TfL plans and full drawings. A novel approach was put froward at the last FREDA meeting to use VBR for the Southbound cycle traffic. The original CS5 two-lane scheme using VBR was shelved because it caused a long red traffic light at John Islip Street but with two fewer left-turns and just a single Southbound lane it could work. It would create a single lane in each direction – except a short section at the South end of VBR – and sidestep the seemingly intractable problems of squeezing two lanes of motor traffic, two of cycles, bus stops and parking into some already congested sections. Edward Reeve proposed it to the meeting who received it with something approaching enthusiasm.
TfL have been asked to take a fresh look at it and to explore the possible Victoria Station routes to join it with Belgrave Square and Hyde Park. The idea is untested and Victoria Station is going to be tricky to get around. Many regular cyclists use VBR both ways because it's quicker and will continue to use it whether it's an official Superhighway or not. The CS5 Pimlico lanes are really aimed at the average cyclist rather than the hardcore so the details need to be carefully thought out with them in mind.
This cunning plan is not part of the current consultation so we'd like to hear what residents think about it and how you cyclists would route CS5 through the Victoria Station area.
Thanks to Martin Low, WCC Commissioner of Transportation, for inviting us to this meeting. Martin Low has notified us of two further public exhibitions that will take place in September as part of the CS5 consultation at Pimlico Library, Lupus Street, SW1V 3EY:
Saturday 6 September 2014 at 11am to 3pm.

Wednesday 10 September 2014 at 3pm to 7pm.
Visitors will be able to speak to members of the Transport for London and Westminster City Council project teams about their respective sections, and view the consultation drawings. The consultation closes on 14 September 2014 and Westminster Council is keen that the City Council's Ward Councillors and officers meet residents' representatives with TfL and Andrew Gilligan to discuss the way forward.
Further Reading
Fingers are crossed that this Belgrave-VBR idea works out okay in practice – any developments will be posted here or on 5Fields.org.
—
PREVIOUSLY…
8th July 2014: latest from Barbara Richards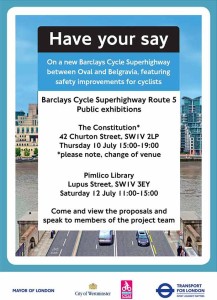 The TfL exhibition on Thursday 10th July has just been relocated to The Constitiution pub just around the corner from Warwick Square. There's a last-minute strike on Thursday so Pimlico Library will be closed and therefore unable to host the first show. Please spread the word on the change of venue if you can. The second exhibition is still planned to go ahead at Pimlico Library on Sat 12th so have a look at one of them if you're able to. If you get a chance to see them, please let us know your thoughts in the comments below. TfL CS5 Consultation show at The Constitution pub, Churton Street on Thurs 10th July 3-7pm and then at Pimlico Library, Lupus St, on Sat 12th July 11am-3pm. The show then moves to Vauxhall and Kennington. We have requested a revisit of the presentation to Pimlico when local residents and businesses have been adequately notified and when the plans have sufficient detail of the routes, junctions and interventions that it becomes a viable consultation.
—
3rd July: More news from Andrew Gilligan and Edward Reeve
Peter Hill (WSCL) has heard from Andrew Gilligan that the consultation period will be 10 weeks, slightly longer than usual due to holidays, and has 3 options:
Two-way cycle lanes on Belgrave Road.
Northbound on Belgrave Road and Southbound on Elizabeth Street and St George's Drive, with some segregation by the coach station.
As per option 2 but with the Southbound cyclists further to the West to avoid the coach station.
Edward Reeve (FREDA) has told us about some of the gory details: If Option 1 is discounted as unworkable then TfL want to connect Vauxhall Bridge with Hyde Park by converting resident parking, and some pavement areas, from one side of Belgrave Road and St George's Drive into a semi-segregated cycle lane. Although classified as part of CS5 Cycle Superhighway the actual layout will be a hotchpotch: some stretches may have markers or medians to segregate lanes, others bits will be advisory, and particularly awkward bits may have to be shared with motor traffic and local bus routes. With the bays along one side taken, residents parking would be shifted inwards towards the centre of the roads which would be considerably narrowed.
There will be some loss of parking space in order to facilitate the free movement of cycle traffic. There are no clear plans for buses, which would either have to disgorge passengers into the cycle lanes or encroach into the lanes to approach the pavement. Drivers and passengers alighting from the new strip of offset parking bays will open their car doors into cycle traffic on one side and a much narrowed main road on the other. The disabled, elderly and those with young children could find themselves in danger. Cyclists would have to keep alert to avoid collisions with them and be aware of the changing lane designations, from segregated to mandatory to mixed, as they pass through the neighbourhood. There are several 'pinch-points' where roads are too narrow or junctions too unfavourable to allow segregated lanes, especially for two-way traffic, and these stretches do not currently have a feasible TfL solution. The design of the many residential junctions to enable residents to cross cycle streams by car or on foot is also not known. We all hope that the design details of the CS5 Pimlico consultation will reveal viable answers to all of these problems. The modest benefits to cyclists passing through leafy Pimlico are very welcome but the CS5 Pimlico section should not be classed as a Cycle Superhighway: the compromises forced upon TfL by the existing road layout offer only patches of safety and segregation for cyclists. This is a poor return on an expensive scheme which takes facilities away from local residents and businesses. Benefits to the Pimlico community haven't been mentioned by anyone, so I'm assuming there aren't any.
—
2nd July: Breaking News from FREDA
FREDA chairman Edward Reeve has just learned that the new TfL scheme to take CS5 Cycle Superhighway traffic through Pimlico will have some unpleasant consequences for residents.
Some of their proposals are very detrimental to residents eg moving the residents parking to the offside of the cycle lanes so that the parking is virtually in the middle of the road! Also a lot of lost parking as a result…
Unfortunately, the TfL consultation process went a little out of sync and details are sketchy. They plan to exhibit the proposals at Pimlico Library (next to the Pimlico Academy) and send out letters to local residents and businesses, but these have been held up so you may not get them until it's too late. TfL agreed to a request by Barbara Richards at St George's Square Residents Association for advance copies of the notices so she could post a few around the Square but nowt has arrived.
Alex Morrison, Consultation Officer at TfL, tells us that the dates will be something like this:
Wed 9th July: CS5 consultation launch & press release. TfL will write to local residents.
Thurs 10th July: First Exhibition at The Constitution pub, 42 Churton Street, SW1V 2LP 15:00-19:00 [Venue change!]
Sat 12th July: Second Exhibition at Pimlico Library 11:00-15:00.
Mon 14th July: Copies of consultation leaflet distributed.
It isn't entirely clear why TfL has timed the two Pimlico exhibits so close to it's notification date that many, if not most, recipients won't see them in time for the first exhibit on Thurs 10th or be able to re-arrange their Saturday. Nor why the consultation leaflets will be distributed after both exhibitions are packed up and gone. I can't find anything online at all, including on the TfL Consultation website. If someone can point me to the right website I'd be very grateful!
Andrew Gilligan interviewed by Eddie Nestor on BBC Radio London 24 June 2014
The radio interview is about the current progress of London's bike schemes and doesn't discuss Pimlico CS5 specifically. The launch of the CS5 TfL consultation and the awkward Vauxhall Cross junction is mentioned at 2:51.
—
Some of the details in this report were unconfirmed at the time and TfL/WCC were still tweaking things before the official launch on Wed 9th July 2014. TfL aren't keen on advance publicity for fear of spooking the locals with rumour but in this case they left us with little choice if Pimlico residents are to actually have their say. New information will be appended when it becomes available. Please consider using the newsletter for up-to-date updates! More about the scheme, including previous TfL proposals, background info and other Pimlico planning issues, can be found in our Planning category.
—
This post originally appeared on WarwickSquarePimlico.co.uk (2014-07-02).